Kasugai City Tofu Memorial Museum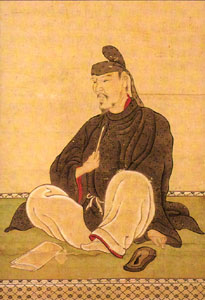 Tofu Ono (894-966) is one of the most well-known calligraphers to live in Japan. Tofu is said to have been born in Kasugai in 894 in the middle of the Heian Period.
During the Heian Period there was a movement to create culture indigenous to the Japanese people and not the prevailing influence of Chinese culture.
The Tofu Museum was established to preserve Tofu's famous work for future generations, and contribute to the continual development of the calligraphy culture. The museum schedules various events such as exhibits and lectures on calligraphy.
Japanese calligraphy developed from the practice of writing letters with brushes which cause variations in character style.
This practice of writing letters was common to Japan and China during the Heian Period. Tofu created the new type of Japanese calligraphy based on elements found in Chinese calligraphy.
Tofu's calligraphic style continues to influence the history of Japanese culture. The practice of letter writing in the beautiful brush strokes of calligraphy has been studied as an art from since ancient times.
Although there are fewer opportunities to write letters by brush today, many Japanese people have been practicing calligraphy since childhood. There are many artists who specialize in the art of calligraphy based upon ancient techniques. Today, worldwide the works of Tofu and other Japanese calligraphers are highly regarded art forms.